Towage of Dry-Dock from Göteborg (SE) to Flushing (NL)
Project Description
Towage of floating Dry-Dock No 4 from Goteborg, Sweden to Flushing (Vlissingen), The Netherlands.
Clients challenges and questions
Reactivate and prepare a 270 x 45 m floating dry-dock from a closed shipyard for sea towage.
Operation
Thorough inspection of Dry -Dock
Prepare workplan and budget
Containment dangerous materials
Engineering strength of dry dock
Reinforce connection between old and new section
Bring dock in operation after repairing stolen cables etc.
Reactivate both 200 T cranes incl. load tests
Nondestructive removal of equipment
Sea-fastening of all equipment in and external
Sea-fastening of two cranes incl. engineering
Construction of towing connections
Installing fairleads and bollards for assisting tugs and mooring
Installation of 750 KVA powerpack and temporarily accommodation
Motion analyses for safe towage
Liaising with

Marine Warranty Surveyors & Naval Architects
Port Authorities & Pilots
Environmental agency
Meteo agency`s

Selecting Tugs and negotiate Bimco Contract
Providing Towing plan including contingency plan
Guards for hibernating during period awaiting weather window
Resources
A total of 55 companies and government bodies where involved in the whole project.
Port Authorities, Trustee, Environmental institues, Pilots, Tug Companies, Boatmen, 18 person repair team, Owners shipyards, Suppliers, Agents, Brokers, Rental Companies, House holding, Waste disposal, Guards.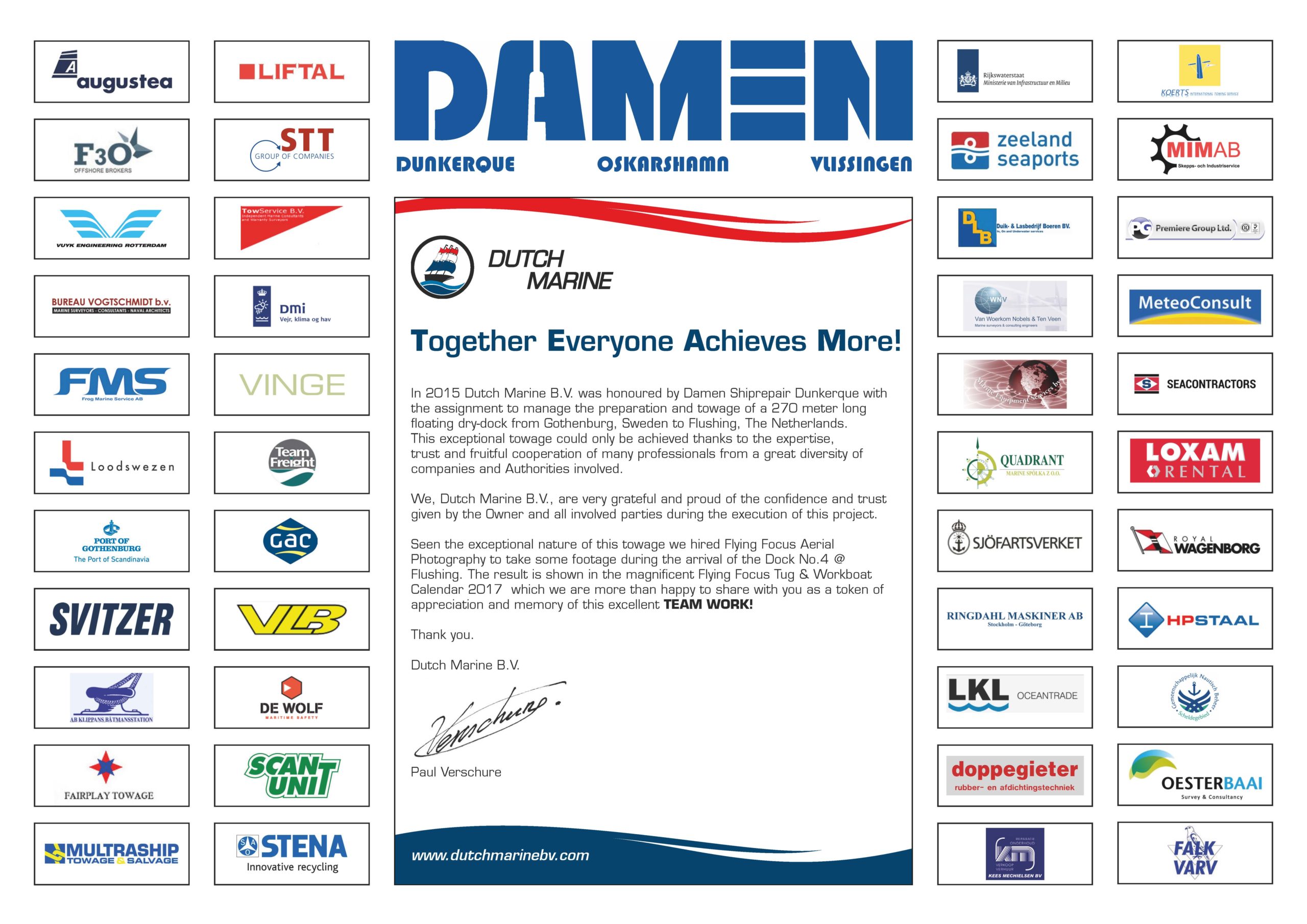 Duration of the project
May 2015 inspection, containment dangerous materials, August-September 2015 preparation. September 2015 – May 2016 awaiting weather window. May 2016 succesfull transport with safe delivery in Flushing, The Netherlands.
Links & additional information